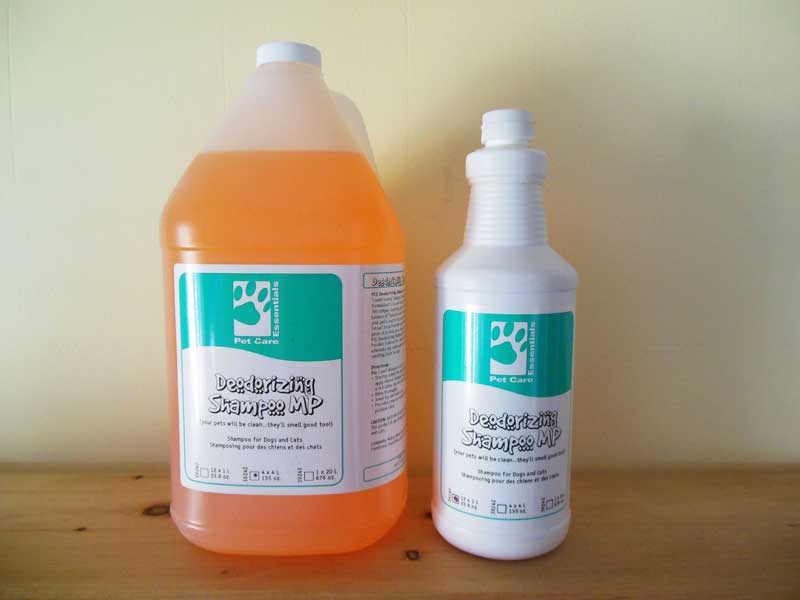 Deodorizing Shampoo MP
PCE Deodorizing Shampoo MP is a rich-foaming, "conditioning" shampoo that has been purposely formulated to be non-irritating to the skin and eyes. This unique cleansing system contains a perfect balance of "natural source" ingredients to help keep your pet's coat in top condition. There is Aloe Vera Extract to soften and condition the coat, and wheat germ oil to help give a healthy shine. In addition, PCE Deodorizing Shampoo MP contains our exclusive ProOdor Control P.O.C. which not only works to eliminate any unpleasent odors but will keep your pet smelling fresh for days.

How to Use:

Mix 1 part shampoo to 8 parts water
Starting behind the ears and working towards the tail apply diluted shampoo directly to coat and work into a rich lather. (Do not pour directly into pet's eyes)
Rinse thoroughly
Towel dry and brush coat
Procedure may be repeated for larger pets or problem odors.


How to Use Deodorizing Cleaner and Surface Deodorizer:
Dog Runs: Use 1oz. per gallon of warm water and distribute evenly over area.
Hard Surfaces: Use 1oz. to dilute bleach for cleaning & disinfecting.
Indoor Pet Areas: Mix 1 part Surface Deodorizer (NO BLEACH) with 10 parts water and mist or spray: Drapes, carpets & pet blankets.
General Cleaning: 1 to 2 oz. per gallon of warm water for floors, walls, woodwork, any painted surface.
Heavy Duty Cleaning: Use 4 oz. per gallon of warm water.
Windows: Use 1/2 oz. per gallon of water.
Metric Conversion Help
1 Liter is about 33.814 fluid ounces
4 liters are about 135.25 ounces 1 gallon is 128 ounces
20 liters are about 676.28 ounces 5 gallons are about 640 ounces

This table is not meant to be exact, just to give you an idea of how much you are getting for your dollar.