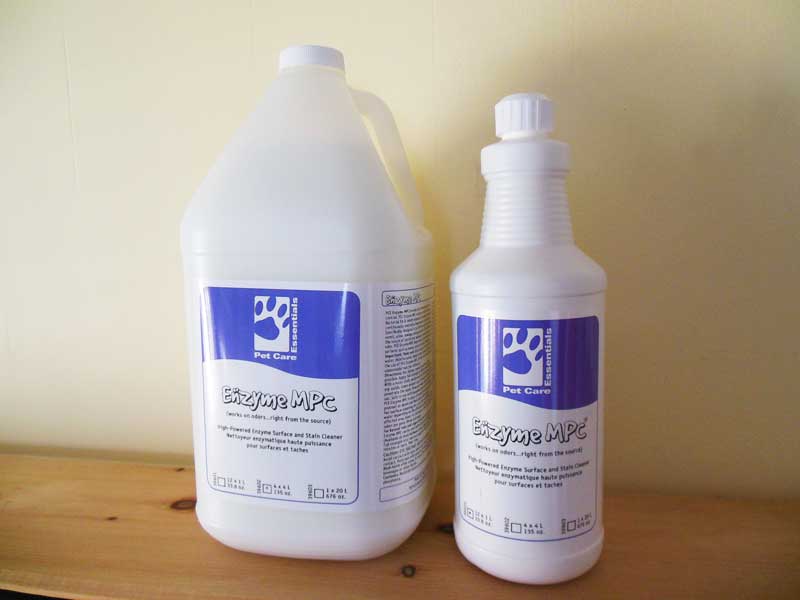 Enzyme MPC
PCE Enzyme MPC provides stain removal and long term odor control. PCE Enzyme MPC contains our exclusive ProAction Bacterial P.A.B. which dispenses free enzymes that quickly and continuously neutralize lingering odors and organic stains. Specifically designed to be effective on pet odors, food spills, vomit, urine, sewage, and perspiration. PCE Enzyme MPC prevents the return of persistent maldodors by removing the source of the odor. PCE Enzyme MPC deep-cleans by penetrating the pores of surfaces such as wood, concrete, plastics, tile and grout.

How to Use:

For Stains, remove as much excess solids as possible. Apply full strength to affected area until saturated. With a moist cloth, gently work into affected area to break up any solids. Leave product up to 20 minutes to allow the P.A.B to penetrate the stain. Rinse with water, blot or pick up with wet vac. Safe to use with household carpet extractors, simply use PCE Enzyme MPC in place of normal extraction products. Always, pretreat as above and final pick up with clear water.

For surface cleaning mix 1 part PCE Enzyme MPC with 2-4 parts water depending on the affected area. Apply this mixture to the affected area leave for 20 minutes or more. Repeat daily until odors are gone. Rinse with water.

For kennel runs and cages follow directions above and/or PCE Enzyme MPC can be used with a hose end portioning sprayer. (Avaiable at most hardware stores). Simply, pour PCE Enzyme MPC full strength into reservoir, apply to affected area, leave for 20 minutes or more. Then rinse.


How to Use Deodorizing Cleaner and Surface Deodorizer:
Dog Runs: Use 1oz. per gallon of warm water and distribute evenly over area.
Hard Surfaces: Use 1oz. to dilute bleach for cleaning & disinfecting.
Indoor Pet Areas: Mix 1 part Surface Deodorizer (NO BLEACH) with 10 parts water and mist or spray: Drapes, carpets & pet blankets.
General Cleaning: 1 to 2 oz. per gallon of warm water for floors, walls, woodwork, any painted surface.
Heavy Duty Cleaning: Use 4 oz. per gallon of warm water.
Windows: Use 1/2 oz. per gallon of water.
Metric Conversion Help
1 Liter is about 33.814 fluid ounces
4 liters are about 135.25 ounces 1 gallon is 128 ounces
20 liters are about 676.28 ounces 5 gallons are about 640 ounces

This table is not meant to be exact, just to give you an idea of how much you are getting for your dollar.