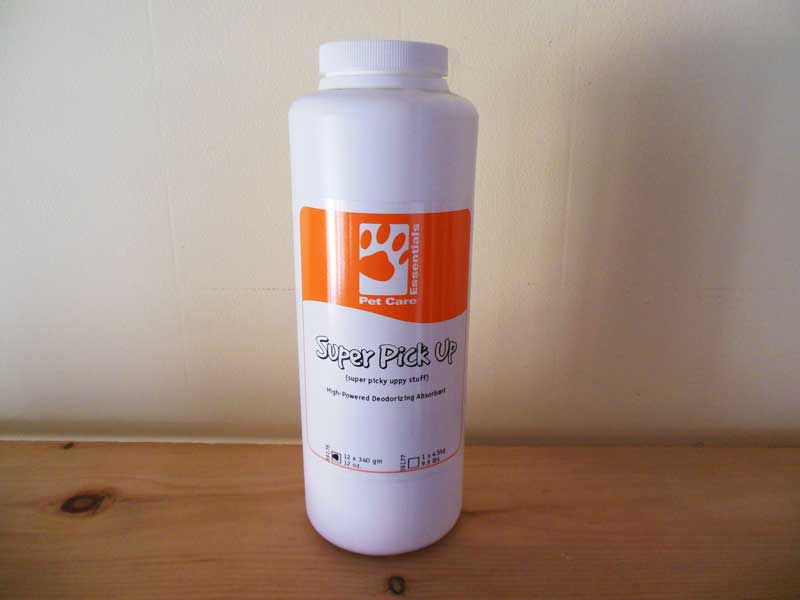 Super Pick Up
PCE Super Pick Up instantly binds and Absorbs urine, diarrhea, vomit, etc. (any water based solution) to make for easy clean-up.
Neutralizes acids and odors instantly/reduces staining. Safe for most carpet and other floor coverings (do test patch in an inconspicous area before use).

To Use:

As soon as possible after spill sprinkle product sparingly over affected area. Wait 2 minutes for product to absorb liquid. Scoop or sweep up and dispose in waste receptacle or FLUSH DOWN TOILET (biodegradeable). If product is used on carpet use stiff brush to remove from carpet fibres and dispose same as above. If stain is dry on carpet or fabric re-hydrate with warm water. Follow Steps 1-3.


How to Use Deodorizing Cleaner and Surface Deodorizer:
Dog Runs: Use 1oz. per gallon of warm water and distribute evenly over area.
Hard Surfaces: Use 1oz. to dilute bleach for cleaning & disinfecting.
Indoor Pet Areas: Mix 1 part Surface Deodorizer (NO BLEACH) with 10 parts water and mist or spray: Drapes, carpets & pet blankets.
General Cleaning: 1 to 2 oz. per gallon of warm water for floors, walls, woodwork, any painted surface.
Heavy Duty Cleaning: Use 4 oz. per gallon of warm water.
Windows: Use 1/2 oz. per gallon of water.
Metric Conversion Help
1 Liter is about 33.814 fluid ounces
4 liters are about 135.25 ounces 1 gallon is 128 ounces
20 liters are about 676.28 ounces 5 gallons are about 640 ounces

This table is not meant to be exact, just to give you an idea of how much you are getting for your dollar.