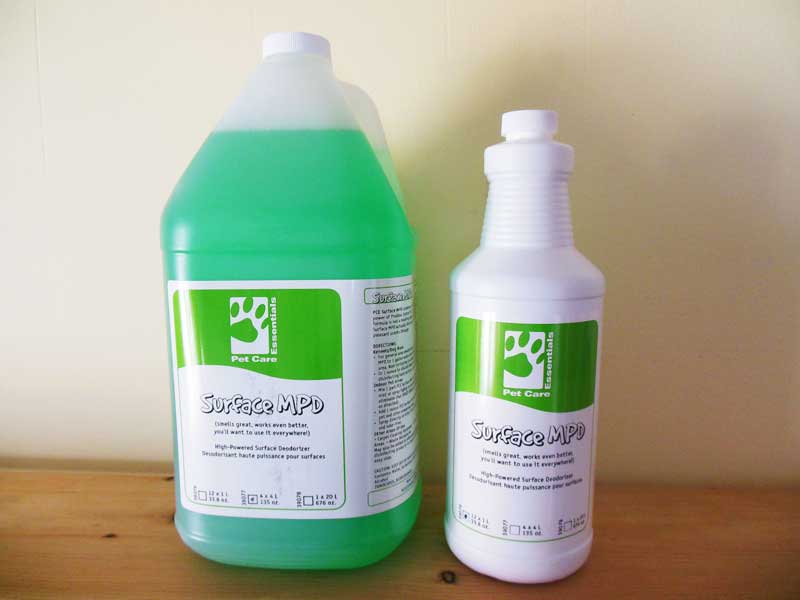 Surface MPD
PCE Surface MPD combines a fresh fragrance with the power of ProOdor Control P.O.C. PCE Surface MPD's unique formula is not a masking agent or cover-up perfume. Surface MPD actually filters out bad odors and allows pleasent scents through.

To Use:

Kennels/Dog Runs: For general area deodorizing use 1 ounce PCE Surface MPD to 1 gallon water and distrubute evenly over area. Non-irritating to animals when used as directed. Or 1 ounce to diluted bleach solution for cleaning/disinfecting hard surfaces, use usual precautions.
Indoor Pet Areas Mix 1 part PCE Surface MPD to 10 parts water and mist or spray lightly on furniture, drapes, etc. to eliminate that DOGGY ODOR! (non-staining when used as directed) Add 1 ounce PCE Surface MPD to laundry to eliminate pet and other unwanted odors. Spray directly on kitty litter to keep litter area fresh and odor-free.
Other Areas of Use: Carpet Cleaning Equipment, Kitchen Washroom Areas, Waste Receptacles.
May also be added to other general cleaning and disinfecting products to clean and deodorize in one easy step.


How to Use Deodorizing Cleaner and Surface Deodorizer:
Dog Runs: Use 1oz. per gallon of warm water and distribute evenly over area.
Hard Surfaces: Use 1oz. to dilute bleach for cleaning & disinfecting.
Indoor Pet Areas: Mix 1 part Surface Deodorizer (NO BLEACH) with 10 parts water and mist or spray: Drapes, carpets & pet blankets.
General Cleaning: 1 to 2 oz. per gallon of warm water for floors, walls, woodwork, any painted surface.
Heavy Duty Cleaning: Use 4 oz. per gallon of warm water.
Windows: Use 1/2 oz. per gallon of water.
Metric Conversion Help
1 Liter is about 33.814 fluid ounces
4 liters are about 135.25 ounces 1 gallon is 128 ounces
20 liters are about 676.28 ounces 5 gallons are about 640 ounces

This table is not meant to be exact, just to give you an idea of how much you are getting for your dollar.